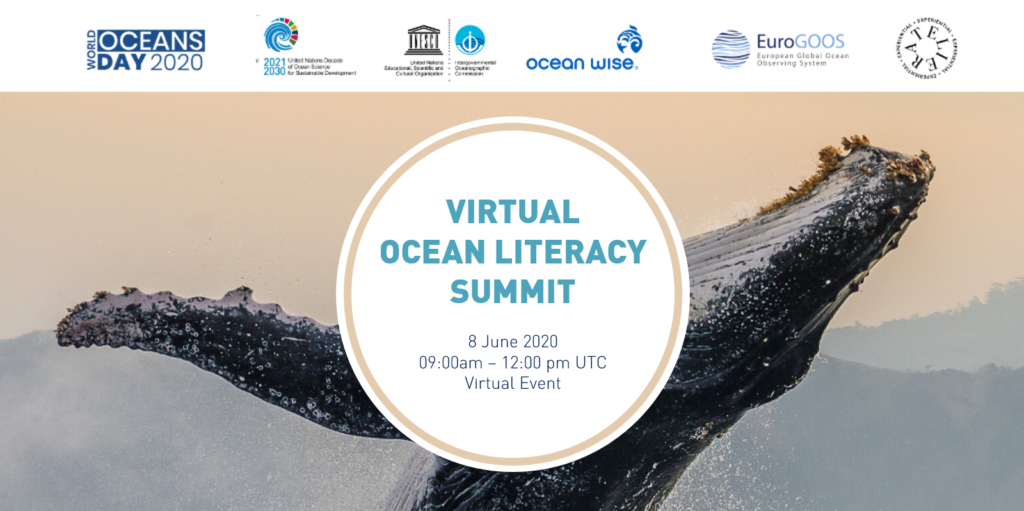 On the occasion of World Oceans Day, UNESCO's Intergovernmental Oceanographic Commission, in collaboration with Ocean Wise, EuroGOOS, and Experiential Atelier, organizes the first Virtual Ocean Literacy Summit. In 2020, we are celebrating people, projects and programmes related to "Innovation for a Sustainable Ocean". As part of a fundamental tool to enhance capacity development, ocean literacy aims to transform ocean knowledge into innovative actions and ideas. 
Ocean Literacy (OL) is defined as 'the understanding of human influence on the Ocean and the Ocean's influence on people'. OL is not only about increasing awareness of the state of the ocean, but it is also about providing tools and approaches that can transform ocean knowledge into actions that promote ocean sustainability. OL is radically evolving from being a tool to be applied only in the context of formal education and training to an approach for society as a whole, aimed at triggering actions towards ocean sustainability. OL can be led by a broad range of stakeholders and have a wide variety of beneficiaries.
In the context of the UN Decade of Ocean Science for Sustainable Development 2021 – 2030, OL is expected to play a key role to transform ocean knowledge to action. As part of the Decade, OL will help to advance sustainable production practices, develop evidence based public marine policy, influence the ocean science research agenda by identifying the science questions that are most relevant to society, promote a more responsible citizenry, and encourage young people to start a career in the ocean economy or in marine science. Moreover, the Decade aims to encourage the science community, governments, policymakers, funders and resource providers, the private sector, and civil society to think beyond "business as usual" and aspire for real change leading to concrete actions and solutions.
The Summit is being organized by the Intergovernmental Oceanographic Commission (IOC) of UNESCO in partnership with OceanWise, EuroGOOS, and Experiential Atelier and in collaboration with: IPMEN, COSEE, CaNOE, NMEA, Australian Marine Education Network, Ocean Literacy Italia, Direção-Geral de Política do Mar, Aquamater, Asia Marine Educators Association, Irish Ocean Literacy Network, Oceano Azul Foundation, Ciência Viva, Universidade Federal de São Paulo, Red de Educación Latinoamericana para el Océano, and European Commission DG MARE's OL4All project.
EuroGOOS is actively promoting the importance of OL for sustainability, as well as sustained ocean observing, effective science-policy interfaces, and user-focused maritime applications. In 2019, these efforts resulted in the establishment of the EuroGOOS Ocean Literacy Network which currently brings together 19 organizations, both national and international, spanning all EuroGOOS sea regions.
Date and time: 8 June 2020, 11am-14pm CEST
Registration and further information on the event's page
The post 1st Ocean Literacy Summit to take place on the UN World Ocean's Day, 8 June 2020 appeared first on EuroGOOS.