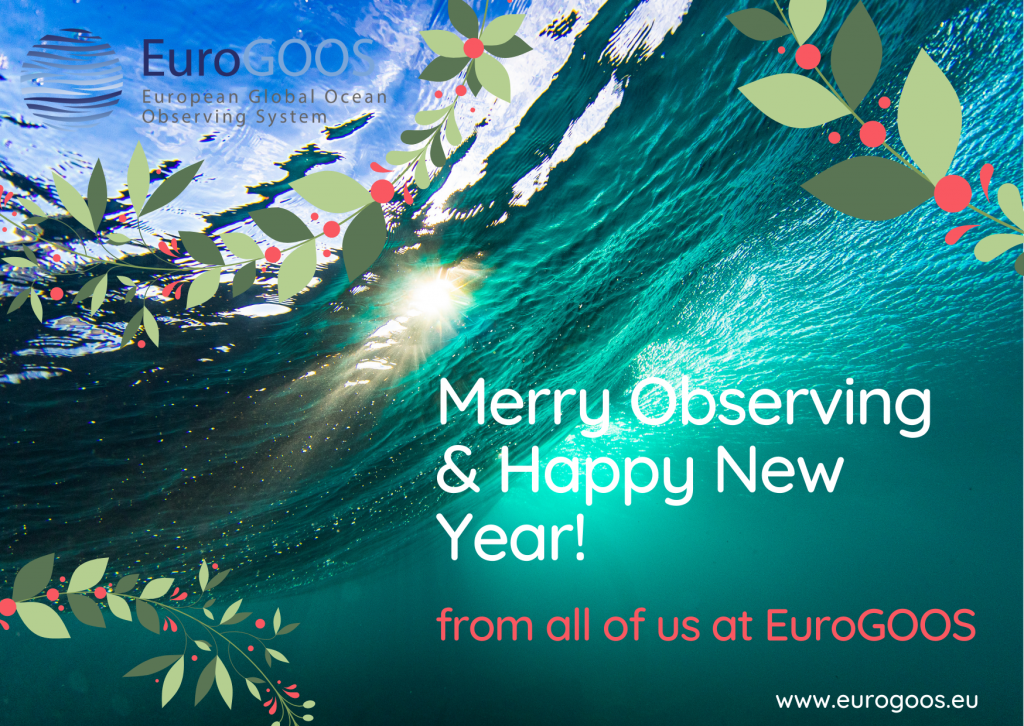 It is a time for celebration as the new year beckons and it is also a time to look back at the EuroGOOS highlights in 2021.
The EuroGOOS 2030 Strategy was launched at our 9th International Conference in May. Our new strategy sets out ambitious objectives for the EuroGOOS community, bringing together nearly 140 organisations dedicated to European operational oceanography and marine research.
As Europe's alliance of the IOC Global Ocean Observing System, we have aligned our strategy with GOOS and aim to expand EuroGOOS services for ocean health and climate. The EuroGOOS 2030 Strategy will be implemented through a range of EuroGOOS initiatives and collaborations. Among those are the core EuroGOOS Working Groups and Task Teams, as well as our Regional Operational Oceanographic Systems. In line with our new Strategy, a new working group focused on biological observations was created engaging new organisations and tapping into different expertise from our member institutions. Together with EuroGOOS work in European initiatives and projects we will advance our priorities towards a more fit-for-purpose system for European operational oceanography.
The EuroGOOS 9th International Conference, which was organised by the EuroGOOS Office, Ifremer and SHOM, was held online for the first time. This allowed the participation of over 500 people from 48 countries. The conference proceedings highlight the key messages of this milestone event and feature the diversity of topics discussed in the conference's 14 scientific sessions.
EuroGOOS has been actively supporting the UN Decade of Ocean Science for Sustainable Development 2021-2030. We are leading a Decade Action 'Scientists for Ocean Literacy' as part of the UNESCO Ocean Literacy With All Programme. Many EuroGOOS members actively contributed to the development of the Decade Programme CoastPredict where three out of six defined focus areas are led by the current or previous members of the EuroGOOS Executive Board. EuroGOOS Office is also contributing to other Decade Programmes, which unite many members of our community – SciNMeet, Ocean Practices, Marine Life 2030, OBON – and seeking synergies with others, including some programmes led by GOOS.
In 2021, we published a new policy brief with recommendations on Ocean Literacy in European oceanography in the context of the UN Ocean Decade. We also co-authored (as members of the Executive Board and the Office) several research papers highlighting the need for better collaboration, co-design, and integration of observations, models, and technologies to improve our knowledge and support more sustainable use of the sea. Important project deliverables have been published to help improve the understanding of existing observing capabilities and set the path for better coordination. Moreover, we have kept a pulse on the European Union ocean observing policy developments and responded, as a community, to the consultations and events around the development of the European initiative 'Ocean Observations – Sharing Responsibility'.
EuroGOOS Office together with experts from our Coastal Working Group and Tide Gauges Task Team has been actively involved in an expert consortium to assist the European Environmental Agency (EEA) in the cross-cutting coordination of Copernicus in situ data activities on marine and Arctic observations. EuroGOOS is leading the marine component in a wider consortium including meteorology, land, and atmospheric composition. We are also actively contributing to further development of the framework for the European Ocean Observing System (EOOS) bringing Europe's diverse ocean observing communities and nations together in the EOOS Operations Committee to foster collaboration and strengthen coordination. EuroGOOS Office successfully engaged the GOOS National Focal Points from 26 European nations to improve collaboration and integration at a national level. We also helped facilitate the formation of the EOOS Resource Forum to promote sustained ocean observing.
Our Office team has been keeping strong during the rough times of the pandemic. We have worked closely with the broad EuroGOOS community, led by our General Assembly and the Executive Directors Board, which changed guard this year with new Chair and Vice-Chair appointed and new members joining the Board. We would like to thank everyone for all of their valuable and multiple contributions making this year a success for EuroGOOS work!
Merry Observing and Happy New Year!
The post Looking back at 2021 appeared first on EuroGOOS.