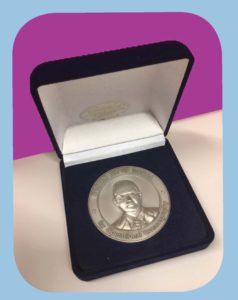 María Dolores Pérez Hernández has been selected as the winner of this year's EuroGOOS Kostas Nittis medal and travel grant. The Kostas Nittis medal and the grant amounting to € 3,000 aim to support the participation of early career marine scientists in relevant conferences and events. The awardee is thus given a chance to present their research work at relevant events, building a professional network, gaining real life experience and reaching out to potential research and technological partners and future employers.
The award recognizes María's work advancing the understanding of the global ocean dynamics and variability using a combination of in situ observations (including ship-based and autonomous observing platforms) and satellite data, complementing observations with numerical models. Her findings on the Canary current re-circulation, strongly linked with the seasonal cycle of the Atlantic Meridional Overturning Circulation (AMOC), are extremely relevant to not only physical oceanography but also to coastal ecosystems, fish stocks and storm tracks. The jury has also recognized Maria's sea-going experience and outstanding data processing and analysis demonstrated by her publication record and her capacity to carry out outreach activities. Discover Maria's blog here.
Maria has been invited to attend the kick-off meeting of the new European Commission's Horizon 2020 project EuroSea, taking place in Brussels on 27-29 November 2019, where she will be awarded the medal.
The post The EuroGOOS 2019 Kostas Nittis medal and grant winner announced appeared first on EuroGOOS.